If you're wondering about Rainbow High and Shadow High dolls' ability to share clothes with Blythe, the answer is a familiar one — kind of, but don't count on it! These dolls have different body shapes, but you are most likely to find a shirt or skirt that works well with some Blythe.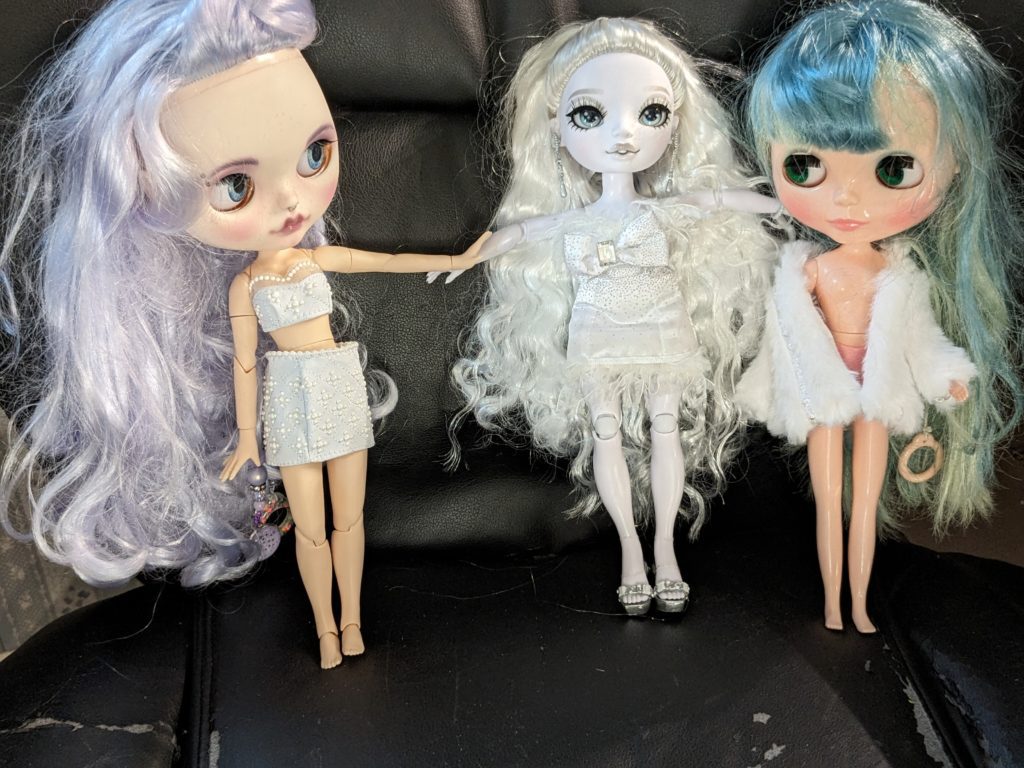 What is Rainbow High and Shadow High?
Ever since 2020, the MGA brand of Rainbow High dolls have been a hit with children and with older collectors. The vivid series of 11″ teens with backstories, all creative, have obvious appeal. More recently, the gals (and some guys) of Rainbow High have gained a rival school, Shadow High. These grayscale guys and gals are just as appealing in their one way as the originals.
Rainbow High clothing is undoubtedly a step above your average Barbie wardrobe. Usually the latter is $10-40 more expensive than today's sometimes dead cheap Barbie Fashionistas. However, Rainbow and Shadow High are often on sale at Amazon.com, especially around Prime Day. They are also at stores such as Target, though as far as I have seen that's always been the full price.
What is full price? That usually is in the realm of $25 or 30 dollars, but specialty dolls with additional outfits or accessories — or even branding, such as the Millennial-bait Paris Hilton doll?! — can be $50 or $100. Call this a mid-price doll that often has good sales, especially after a new series is released.
On Amazon, the listings boast that Rainbow High has clothing with stitches, and it comes with haircare instructions. The hair was very soft and nice, no glue or anything, but like every doll — Blythe included! — the haircut was ragged and not straight at the bottom.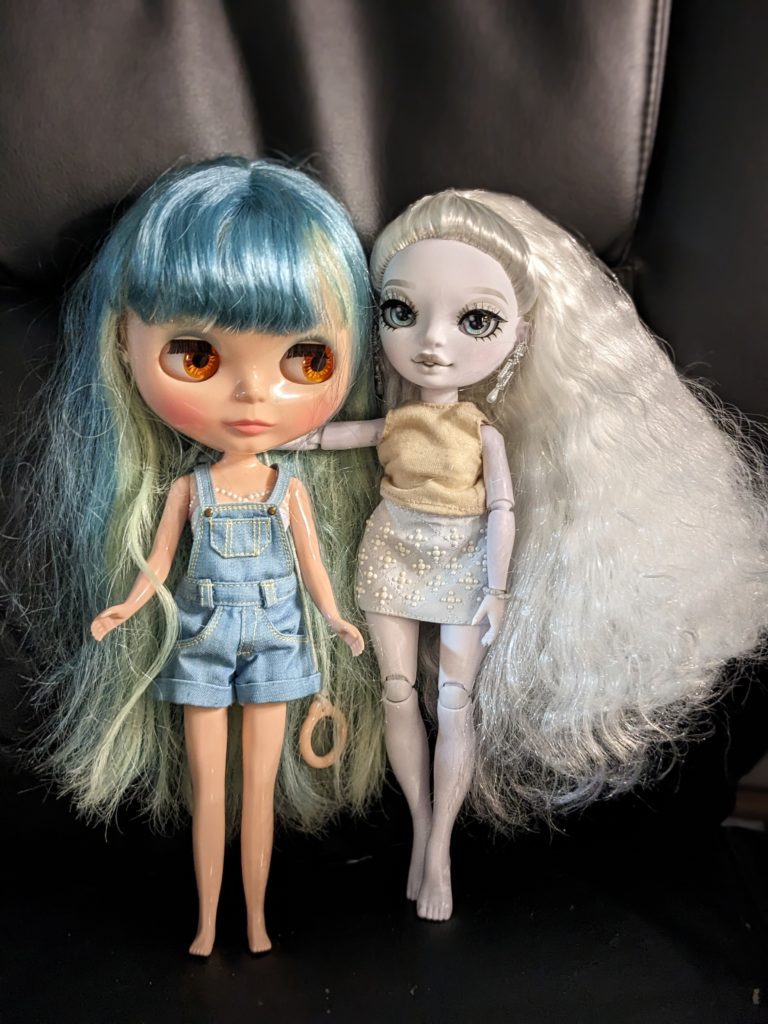 Can Blythe and Rainbow High share clothes?
The answer to the question of whether Blythe and Rainbow High and Shadow High dolls can share clothes is "partially." Rainbow High dolls have smaller chests than default Blythe, but significantly wider hips — rather like Curvy Barbie Fashionitas.. Their feet and hands are much bigger as well. Obviously, Rainbow High heads are much smaller than Blythe's.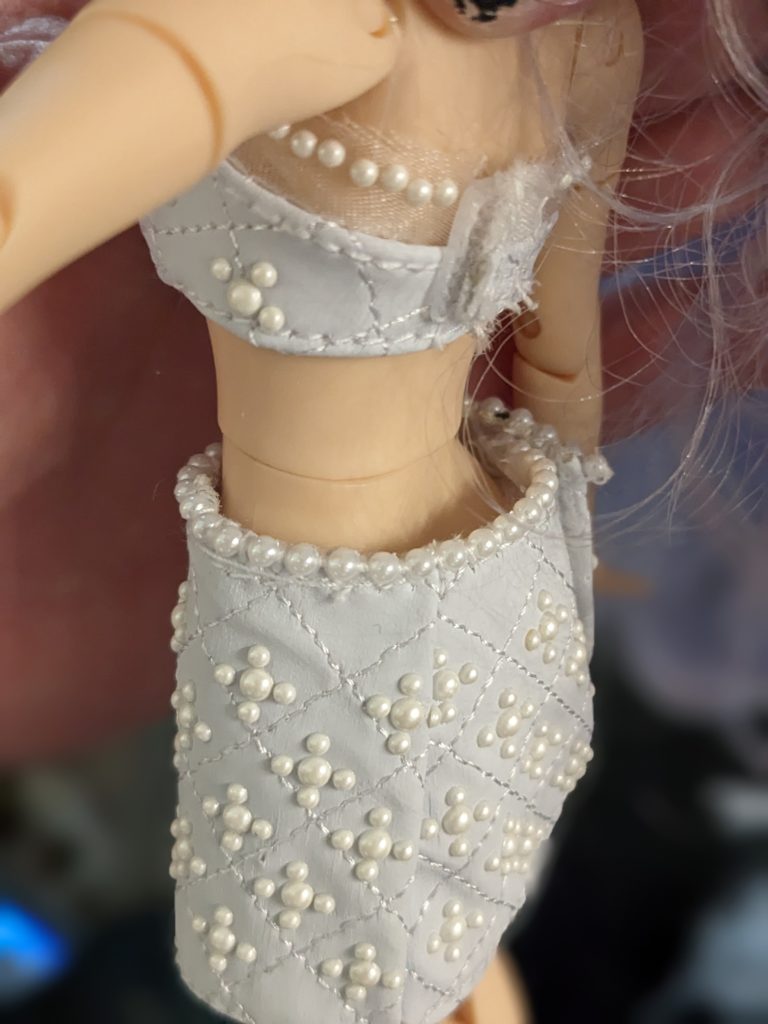 When trying to figure out if Blythe can wear a different doll's clothing, you have to remember that there are technically different Blythe bodies. And so, using a series 1 Shadow High doll, the all-white Natasha Zima, and a stock Blythe body, a Licca body, and a jointed obetsu one, I had a clothing swap.
First, the jointed Blythe. Natasha Zima's extra outfit was more striking than the feathery, slightly shredded number she was wearing in the box. The crop top fit Jointed Blythe's ample chest nicely, but the beaded skirt was only mostly there. The latter meant that no other Blythe types were going to be fitting perfectly into the skirt, unfortunately. The high heeled shoes are much too big and square even for Jointed Blythe. The boots, with a depressing amount of environment-destroying glitter, I gave up on for the time being. Same with the rather tight jacket.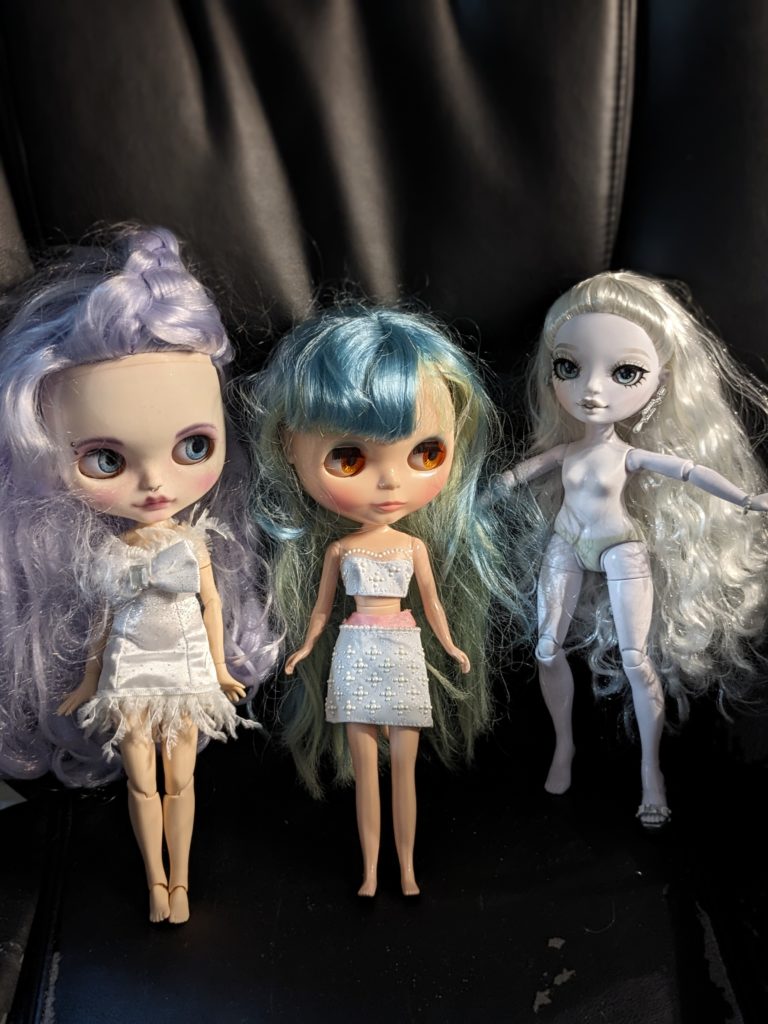 Natasha's feathery default dress mostly fit, but because it doesn't have straps, it's very wardrobe malfunction-ready.
Now, a Licca body, with its slimmer chest, fit the coat well. Since there are no buttons, it fits as well as it's going to on any doll, and we can call that a success.
Stock Blythe somehow managed to almost fit into the skirt again, but as you can see, that's a rather low-rise look. The crop top again was the MVP item, as it fit this Mandy Cotton Candy's chest very well.
Does Rainbow High and Shadow High Fit Blythe Clothes?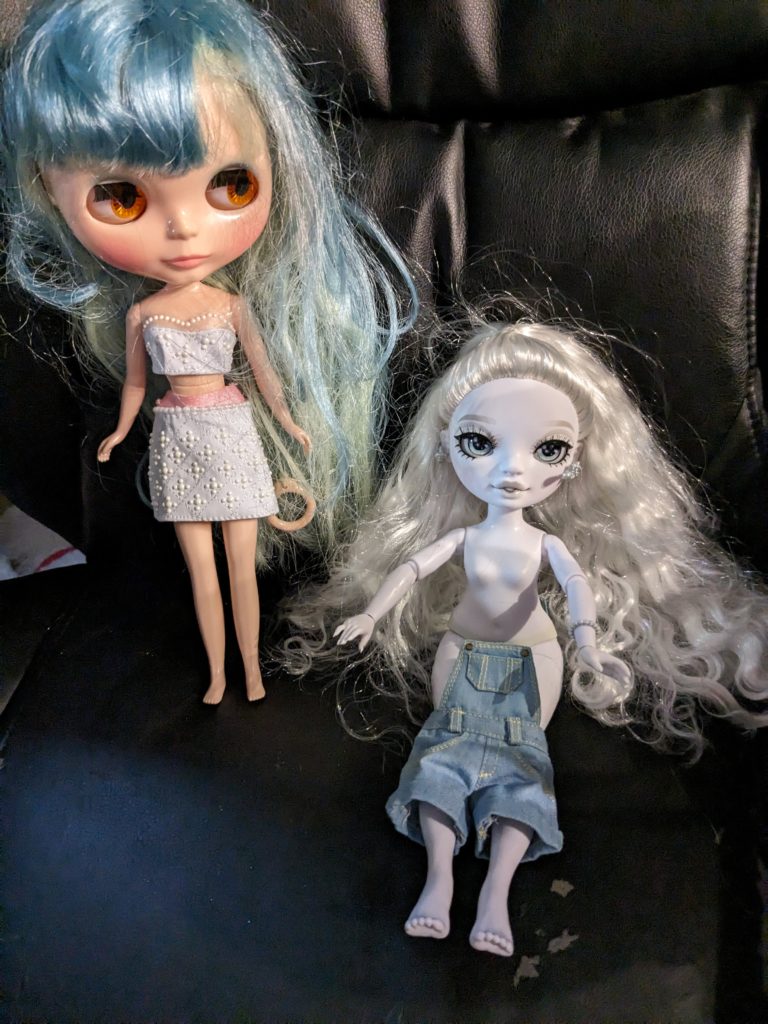 The slightly less important question is whether the dolls can switch clothing, simply because Blythe and its clothes are much more expensive. The Blythe short overalls were immediately a no-go, thanks to those wide Shadow High hips. The t-shirt, which I believe originally belonged to a Lori doll (good for Holala and Blythe fits), fit nicely, however. Blythe dresses and shirt are going to tend to fit Rainbow High and Shadow High nicely, if a little loosely (call it casually). It's pants and form-fitting clothes that are the trouble.
So again, if you want to sample a few doll types AND increase your Blythe wardrobe, Rainbow High and Shadow High are not a bad choice. However, just remember that like Creatable World, not everything is going to fit Blythe.
What about Rainbow Junior High?
Yes, there are also a few series of Rainbow Junior High dolls. I will need to get one, and update this page. Rainbow Junior High seem to be about 3/4 scale of the original doll.
There are also male Rainbow, Shadow, and Rainbow Junior High dolls. For now, their clothing remains a mystery to me.