Blythe dolls are great fun, but sometimes you need to add a little diversity to your toy collection.
Any toy can get along with any other toys, and vice versa. However, the following is a little introduction list to some of the the toys that can be the best friends of Blythe. What do they have in common? It's sometimes hard to identify, but big eyes, kitschy faces, spooky, gothy, kawaii, or mod style. Maybe vintage, like a Kewpie doll, or maybe with a vintage flavor like Holala, check Instagram under the hashtag #Blythefriend for thousands of fun examples.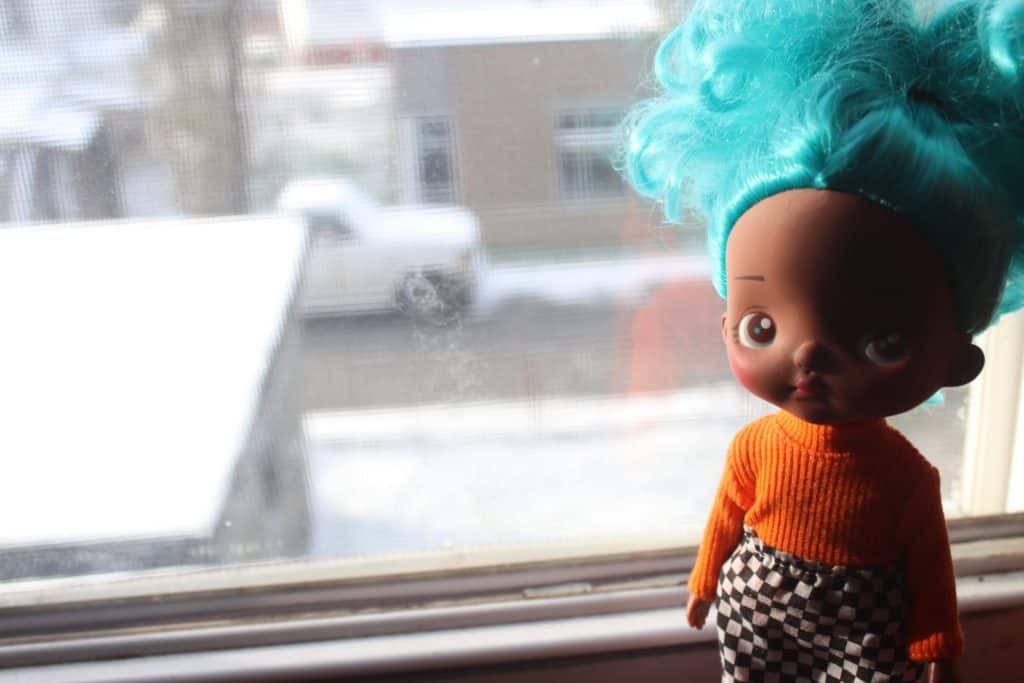 Holala, Pipita and other dolls by Jenny Yi:
Holala and her friend Pipita are made by Chinese artist Jenny Yi. Her first dolls had sweet, kind of vintage faces, like little flapper girls. Yi has made dolls with bee and mushroom themes, space dancer themes, circus themes, and fairy tale themes. The first Holala was released in 2017, and as of 2019, Yi has released two new types of dolls — Susu and Mimiko. Yi's dolls can be purchased on her website, or on her Etsy. As they are in high demand, I recommend following her on Instagram, and turning on notifications for her posts — just in case she wants to announce a new doll, or a day of sale.

Holala makes a lovely little sister or friend of Blythe, and are very hard to resist for their own charming sake. They can share some shoes and shirts with Blythe, though they are obviously much shorter in height, and lack the bosom of Blythe. Mini American Girl or mini Our Generation doll clothing fits Holala very well. The above Holala is dressed in a Sarah Shades Takara Blythe shirt, and what I believe is just a Barbie skirt.
Moof dolls:
Moof dolls are are a short-lived series of dolls made by a Japanese artist in the 2000s to mid 2010s. About nine inches tall, with Licca-like skinny bodies and small chests, they were inspired by Blythe, but have their charmingly solemn own look. They have big, round sleepy eyes and a small, solemn (or maybe jut serene) mouth and little nose. They don't do anything fancy or gimmicky like a Blythe or Mui-Chan, but they get alone with them well.
Moof came in releases with names including Cuna, Una, and Huna. They had different colored conventional hair, including red, blonde, white, and brown. They also had unique clothing, which tended to have a vaguely homemade look, but with more furs and fuzziness.

The maker of Moof also made Lino dolls, which are a smaller more traditionally ball-jointed doll-type release with wigs. They have more of an alien-like look, as well.

Moofs are fairly rare, but they occasionally show up on Ebay and Japanese sites such as Mandarake. I would suggest setting up an alert for both sites if you are interested in finding one. Unless you luck out, they are likely to be listed for around $200.
Wonder Frog and Studio Uoo dolls: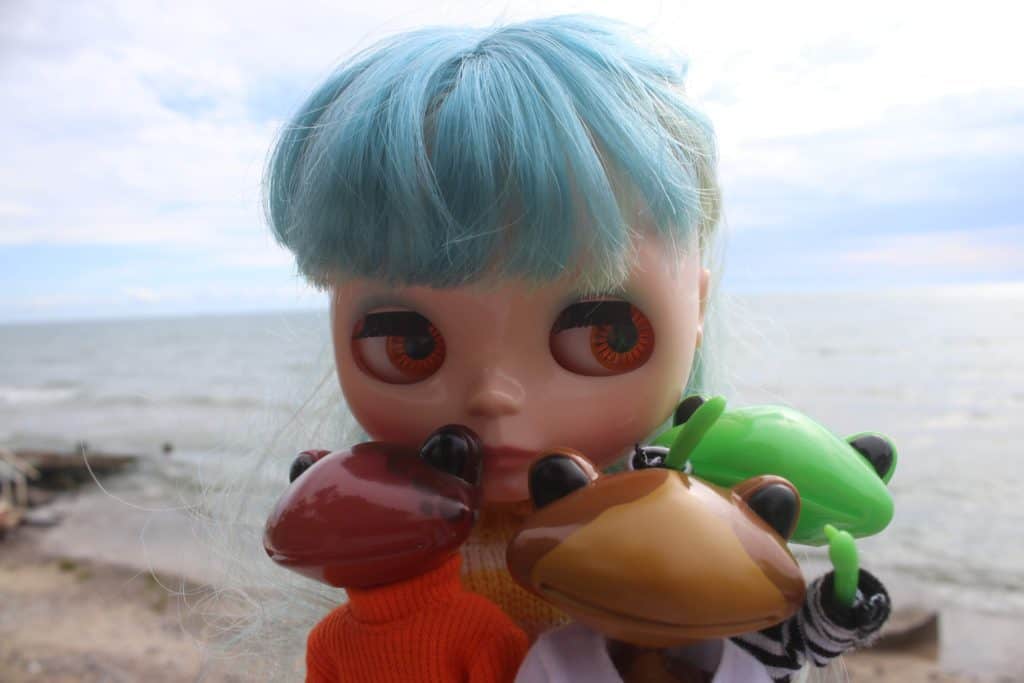 Wonder Frog and associated friends: These are a charming series of animal dolls made by Studio Uoo. There are countless frogs in a 5 and 15 cm sized variety with different colors and themes. There are also a series of smiling skeletons called New Bone Walkers, 6.8 cm cats (Meowworld), a weasel, a mouse, and a snail with arms and legs. There are also a series of fairy tale creatures, usually with a mushroom motif.

Wonder frog and friends have a few shoes and items of clothing for sale, though they are expensive. Etsy has a few handmaid items, and for the 15 cm frogs, other doll clothes can work. Apparently obitsu 11 doll clothes fit almost perfectly, though I have not yet tested this. Other usable clothing for the larger frogs includes male Monster High Doll shirts, various Kelly/Chelsea (Barbie's little sister) clothes, especially little jumpsuit and overalls types. I will list more examples as I find them.
Sonny Angel:
Sonny Angel (or see the upcoming Kewpie and family section): If Instagram is any way to tell, Sonny Angel — a nude little boy of a Kewpie variety who wears countless themed hats — gets on well with Blythe, even though he is less than two inches tall. Sonny, who comes in blind boxes with themes like flowers, sea creatures, and desserts, can be found on Ebay, as well as Amazon, and sometimes Barnes and Noble for about $8-10. He also has a website (USA). Rarer Sonnies would go for more, as do more limited artist dolls. Buying a used Sonny would presumably mean getting to pick, but of course buying one in box gives you the whole unknown, frustrating, buying yourself a present experience.
Mini Mui-Chan and other Xi Dolls:
Mui-Chan is a strange series of themed dolls whose eyes move via connected pegs that are accessible inside of the head. She also has various fiber wigs for sale, but is sold with an impressively difficult to remove plastic hair piece. Early mui-chans had a hole in their head when the hair was removed (a bit reminiscent of a late 19th century or early 20th century doll when the hair is removed). Later, "advanced" varieties have ears, and an extra skull piece so the doll doesn't look so tragically unfinished (though her eyes were easier reach and therefore change position that way). She also has more joints, and is surprisingly bendable. Mui-Chan can be purchased at the Xi Doll website, along with the Holala-like Hachichi.
More examples upcoming! Suggest your own! Who goes well with Blythe? And who deserves their very own page?